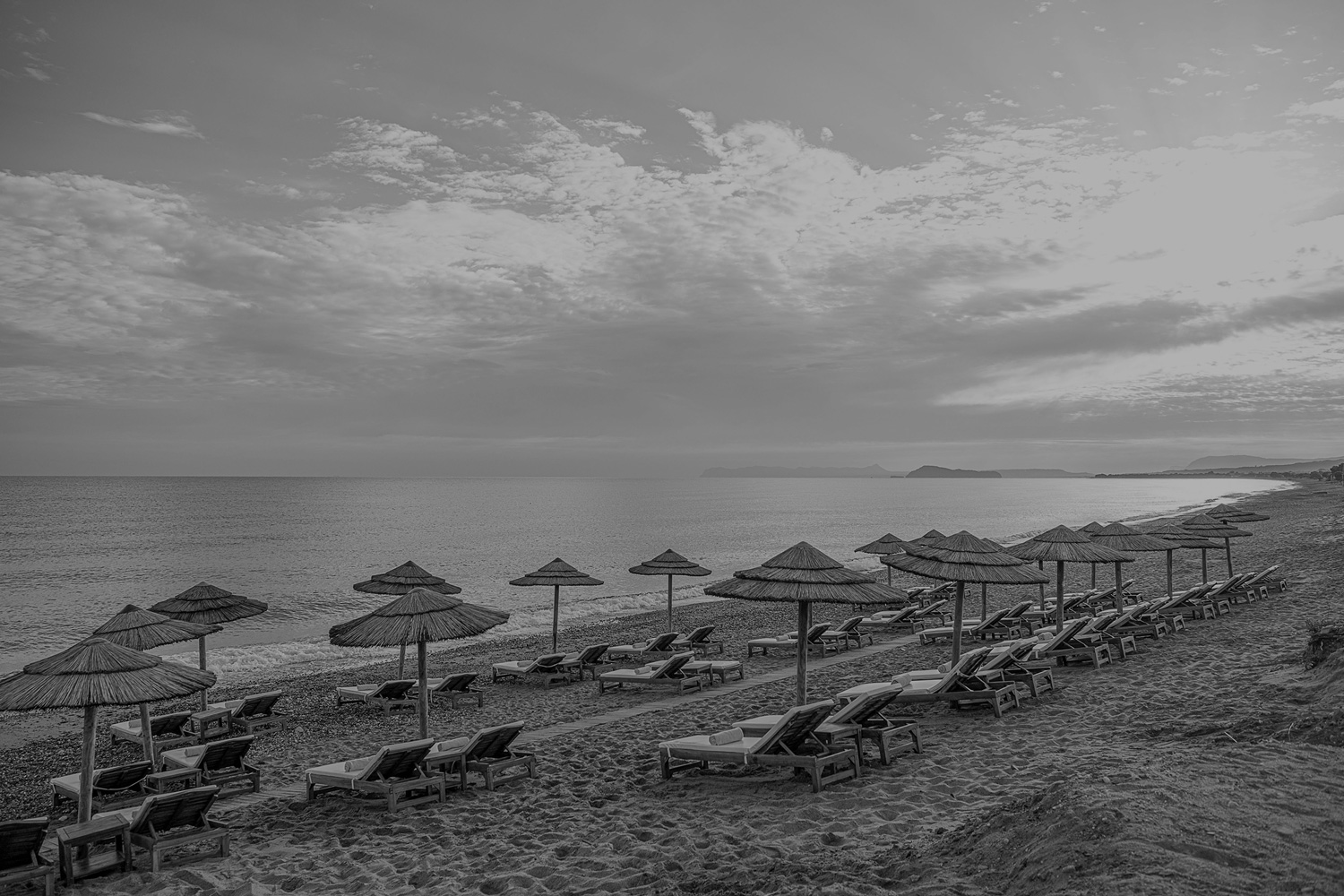 BEACH & POOLS
SWIM YOUR WAY TO PURE BLISS
SCROLL
OUTSTANDING POOLS
Avra Imperial Hotel Swimming Pools
Surrounded by fragrant gardens and palm trees, with a spacious welcoming pool lounge and 3 stunningly beautiful swimming pools for adults, 2 pools for children and an indoor heated pool for year-round enjoyment, Avra Imperial Hotel in Chania, ensures a truly relaxing retreat in the enchanting island of Crete.
Avra Imperial Hotel swimming facilities at a glance:
The state-of-the-art infinity-style, central glass swimming pool, covering a total area of 1,500m²
Adjacent to the central swimming pool, a second swimming pool, covering a total area of 700m²
The dedicated children's pool located next to the outdoor kids area, with plenty of shade serving our little guests
The second main pool with its own children's pool area located at the upper wing of the hotel
The 200m² indoor heated swimming pool in the APIVITA Spa area, fully equipped with pool surround cascade, water jets and jacuzzi
The hotel's stunning swimming pools and extensive sun kissed terraces boasting two incredible pool lounges, provide the perfect setting for refreshing swims and relaxation at the pool, while our dedicated staff will be serving you refreshing drinks and cocktails or freshly prepared snacks.
And if your dream holiday features endless days by the pool until the golden Greek sun sets, or your little ones can never get enough of water games, several private or shared swimming pools have come "to save the day". At Avra Imperial Hotel an experience beyond compare awaits with no less than 118 rooms and suites featuring their own private or shared pool, providing an oasis during the hot summer days in Crete.
USEFUL INFORMATION
All outdoor main swimming pools are accessible daily between 09.00–19.00.
Pool loungers, parasols and towel service are available throughout the day, free of charge for hotel guests.
All common, shared and private pools are 1.40m deep.
All children's pools are up to 0.50m deep.
Children under the age of 14 are not allowed in the spa facilities and the indoor heated swimming pool.
MAGNIFICENT BEACH
A beautiful pebble beach right next to Avra Imperial Hotel
Avra Imperial is a beach hotel in Chania Crete, located right next to the wonderful beach of Kolymvari; one of the best and easily accessible beaches located close to Chania city.
Featuring fine sand and pebbles, Kolymvari beach is well-known for its untouched beauty and crystal clear waters, offering magnificent views to the picturesque Rodopou peninsula to the West and the Thodorou islet, a preservation area of the Cretan wild goat widely known as Kri-kri.
The quiet atmosphere of the beach makes it the ideal setting to enjoy some moments of relaxation overlooking the resplendent Cretan sea. And for those of you who want to soak up the sun with a cocktail in hand, the sophisticated Avra Seaside Restaurant Bar serves your needs right next to your favorite beach.
USEFUL INFORMATION
Beach loungers, parasols and towel service are available throughout the day, free of charge for hotel guests.