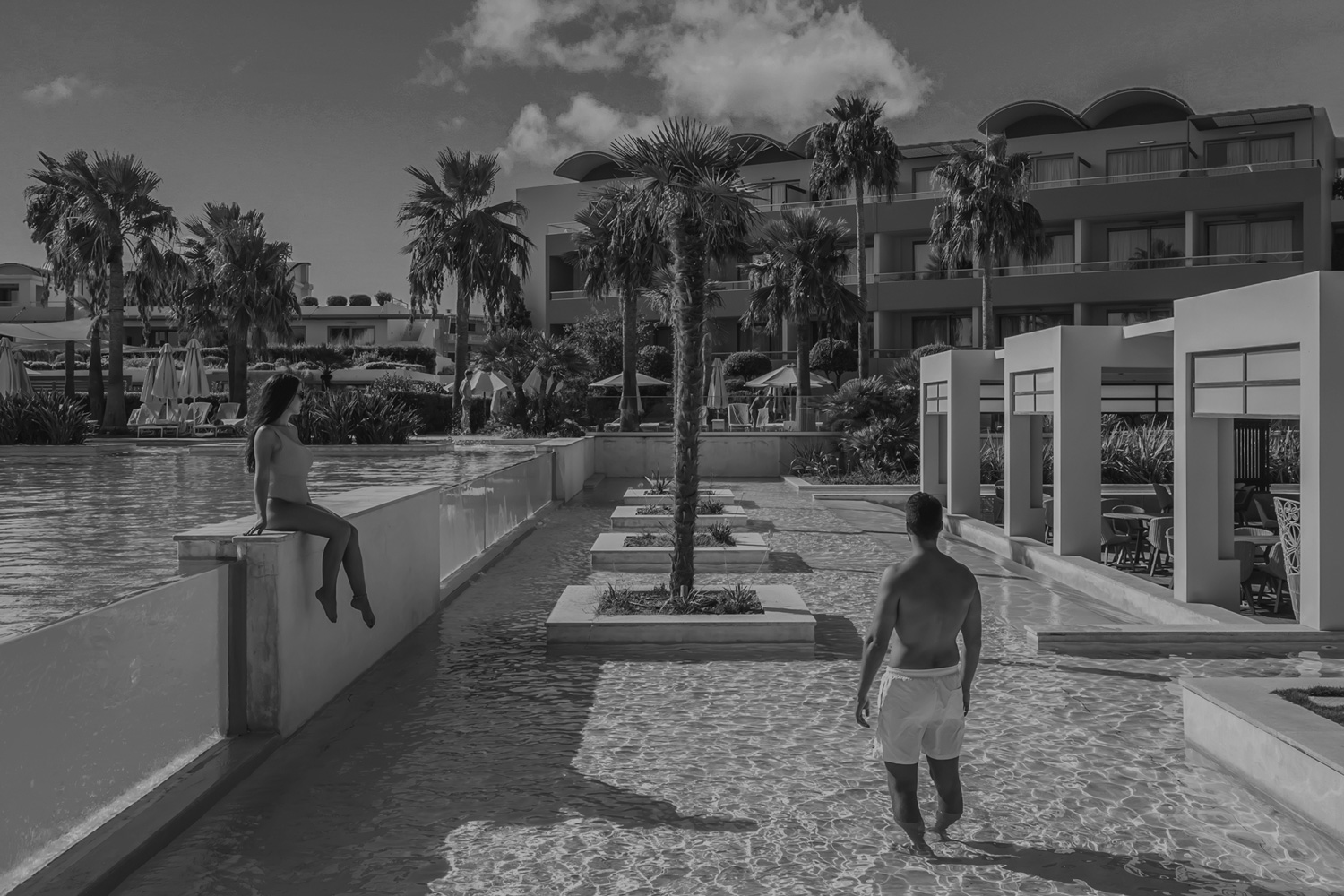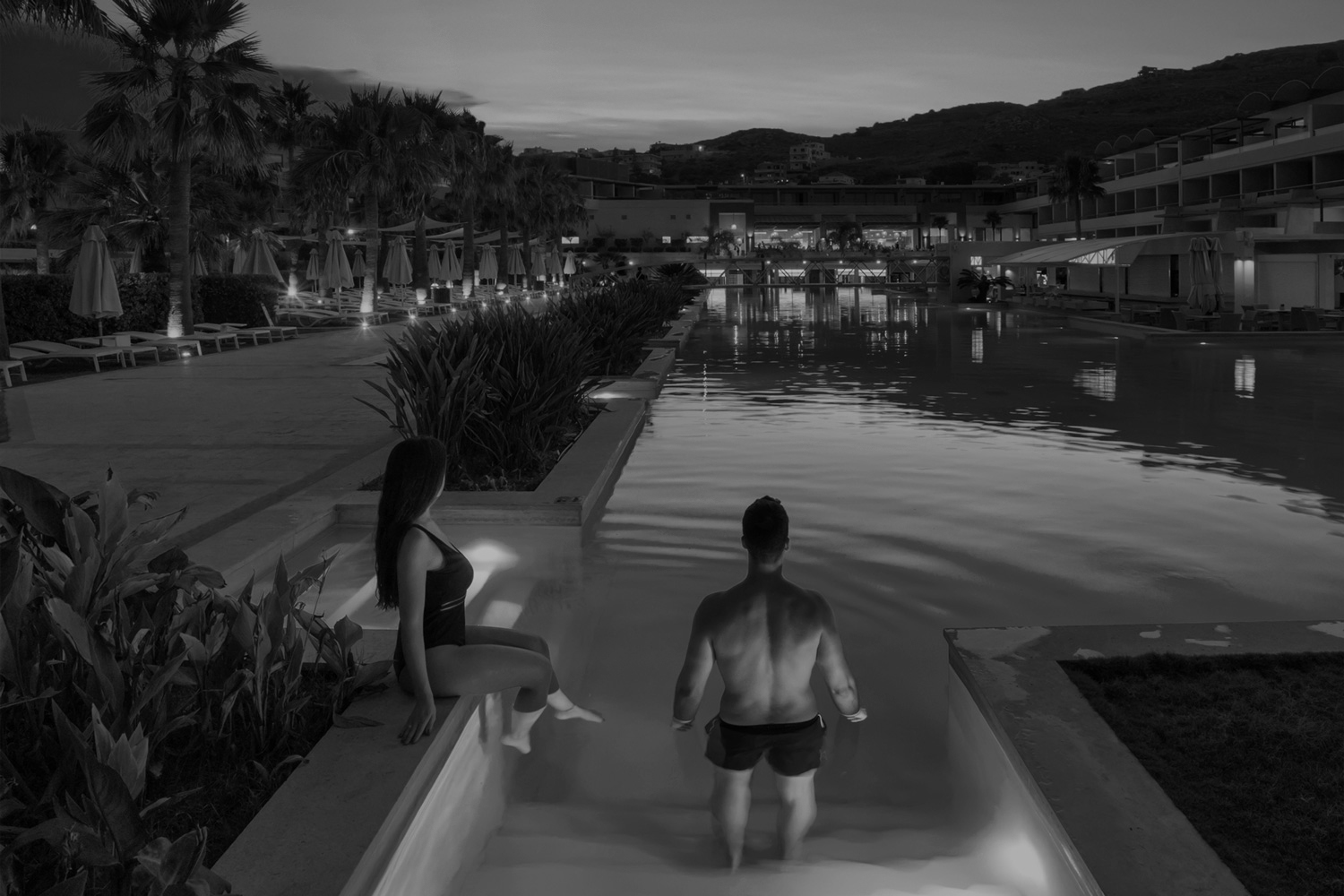 THE HOTEL
WELCOME TO AVRA IMPERIAL HOTEL
SCROLL
LUXURY ACCOMMODATION IN CRETE
EVERYTHING YOU NEED FOR TRULY UNFORGETTABLE VACATIONS
Avra Imperial Hotel is a milestone in modern luxury accommodation offering comfort, entertainment and relaxation. Nestled between the picturesque bay of Kolymvari and the idyllic beaches of the Rodopou Peninsula, οverlooking the resplendent turquoise waters of the Cretan sea, the hotel is a haven for sunseekers and beach enthusiasts.
Avra Imperial Hotel boasts 328 luxurious rooms and suites, top class facilities including mega swim-up pools, restaurants with luxurious buffets, fancy à-la-carte outlets, vibrant bars, sports & leisure facilities, crèche & children's club, a rejuvenating state-of-the-art wellness center and unrivalled conference center facilities.
The unique character of the resort, inspired by the structural features of the ancient Minoan palaces, combines style, luxury and comfort, creating the ideal environment for you to share special moments with your loved ones.
Avra Imperial encapsulates the essence of family holidays, while offering the perfect choice for couples to enjoy some quality time together.
Its culinary outlets offer a dynamic dining experience at Avra Imperial Ηotel. With a chic beachfront lounge, fancy open-air restaurants and casual poolside bars, the hotel covers all tastes, from romantic private dining to luxurious breakfast buffets.
THE AVRA FLAIR
The foundations of our hospitality are our Greek origins and traditions. We value the authentic Greek hospitality that comes from our heart, creating inviting atmosphere and memorable moments for our guests.
We perceive each guest's unique wishes and desires. Our dedicated team is committed to providing eclectic services and unique experiences, as well as to bringing guests of all ages in touch with the Cretan cultural heritage.
HOTEL FACILITIES
FACILITIES
328 rooms & suites
118 shared & private pools
3 outdoor pools for adults & 2 children's pools
2 buffet restaurants & 4 à-la-carte restaurants
4 vibrant bars
Beach right next to the hotel
Wellness & Fitness Center with heated indoor pool
State-of-the-art Conference Center
Business Center
Crèche & children's clubs
Children's playground
Open-air amphitheater
2 tennis courts
Private chapel
Rent-a-car desk powered by Traffic
Mini Market
Beauty & Hair Salon
Apivita Natural Greek Cosmetics shop
Indoor & outdoor hotel parking
ATM within the hotel premises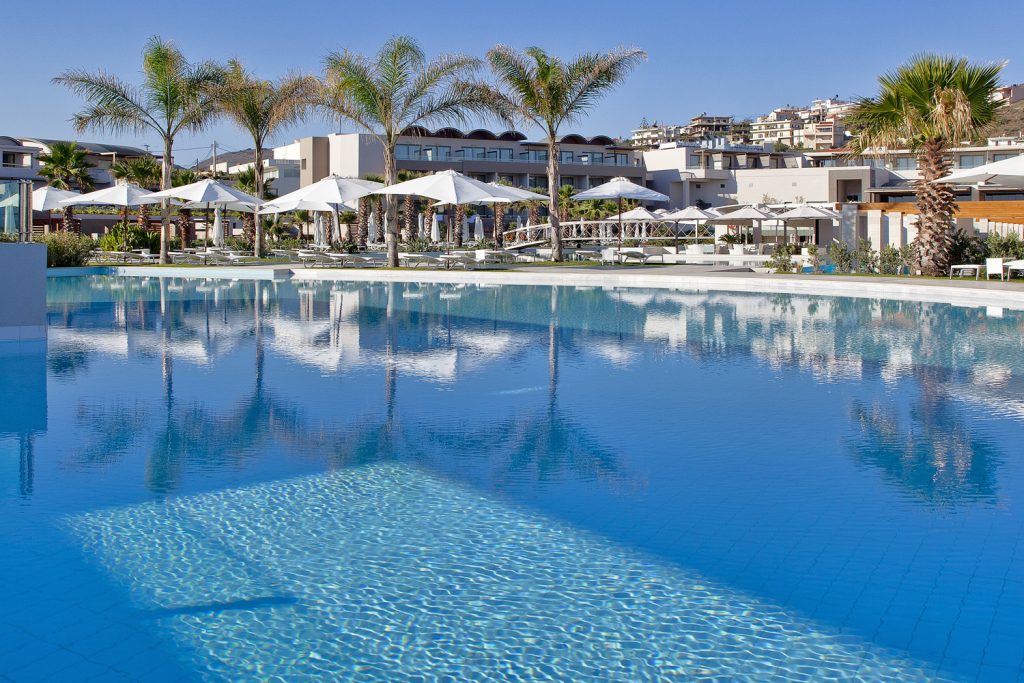 HOTEL SERVICES
Weddings, Meetings & Special Events services
Private dining
Babysitting
Indoor & outdoor activities for toddlers & children
Specially designed fitness activities for adults
Laundry & dry cleaning
24-hour reception
Porter service
PCR / Rapid Test on site
Doctor on call
Toddlers equipment
Hotel App
Boat trips
Equipment & facilities adapted for disabled people
LAVISH FACILITIES
YOU REQUEST, WE DELIVER
Experience a carefree escapade in the magnificent island of Crete! Avra Imperial Hotel is here to take your next holiday to a whole new level. All you have to do is sit back and let us take care of all the little details that will rejuvenate you and make your long awaited summer break truly memorable.
Soothe yourself in the stunning swimming pools, soak up the sun at the naturally beautiful beach of Kolymvari, have unique culinary experiences in our restaurants and special moments in the bars,and keep your body, mind and soul well balanced with our fully equipped sports and leisure facilities.
Furthermore, a vast array of special facilities and services located within the hotel premises will make your life easier. You can visit our APIVITA® cosmetics shop, hair salon, mini market, ATM and rent-a-car service desk powered by Traffic, throughout the day at your own convenience.
USEFUL INFORMATION
Dogs are allowed up to 6kg, one pet per stay.
Smoking is prohibited in all indoor areas.
For more information relating to bookings and extra costs regarding the hotel's services, please contact our Concierge desk by dialing 10436 from your room. Alternatively you are kindly requested to send an e-mail at concierge@avraimperialhotel.gr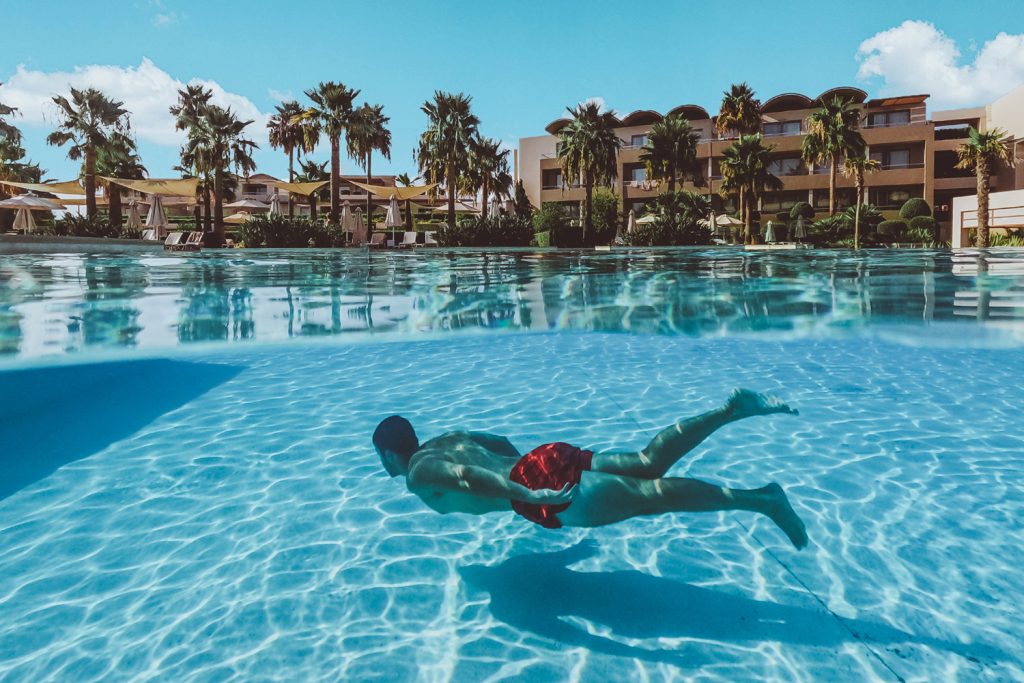 Beach & Pools
Avra Imperial Hotel certainly makes the most of its unique location and harmonious surroundings providing a wide range of swimming facilities and options for an elevated swimming experience. From the imposing central swimming pools to the numerous polished private and shared pools, Avra Imperial offers the luxurious touch you would expect from a pool lovers' paradise. Alternatively, you can take in the sun and treat your eyes with magnificent views over the Cretan sea at the unspoiled Kolymvari beach next to the hotel, with its crystal clear water and serene atmosphere.